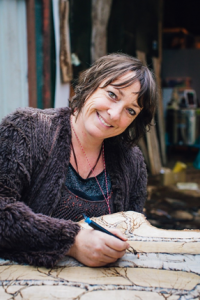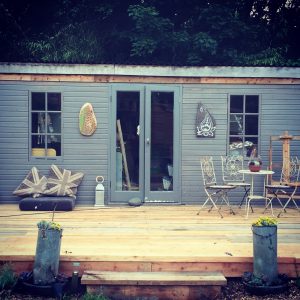 Ruth Wheeler runs Art and Yoga classes, Creative Workshops and Retreats in Surrey, Cornwall  other UK Venues.
She has been working and living in Surrey since graduating with a BA Honors in Fine Art at Cardiff University 25 years ago.
Ruth's love for working and helping others to benefit therapeutically from a creative practice has led Ruth to develop a career in the Arts and Disability field and she has gained much experience in working with a wide range of adults and children with special needs.
Ruth set up Sculpt it with Holly Rampling 20 years ago and she has continued to run  Sculpt it – a community art reach company and charitable arm supporting and teaching 100's of schools, Day Centres, Arts Centres and Public Art Community Projects.
Ruth has always been an artist, designer and maker and her work has evolved over the years, from ceramics, willow, mosaics to stone and wood. She is a well established female wood sculptor in Surrey and undertakes large commissions to small art works.
For Art  check out Sculpt it – community art projects  and Ruth Wheeler – artist gallery.
Ruth is known for her large scale chainsaw sculptures and benches, dotted about Surrey and the southern counties. Ruth still undertakes special commissions but she has also been developing an affordable collection of Wood Wall Art that she displays in Galleries and sells in local National Trust sites and Watts Gallery as well as The Blue Bramble Gallery in St Ives and NISSIM London. Please check out the Woody bits section.
Yoga came into Ruth's life about ten years ago when she attended about 5 years of Ashtanga classes. This supported Ruth's weary sculptors body and helped with the maintenance of her back and neck. In 2015 Ruth qualified as a Seasonal Hatha Vinyasa 200TT and 50 hour Teen Yoga Training. She has taught in schools, yoga studios and currently runs 6-10 classes a week as well as retreats and workshops. Take a look at the Yoga section.
Ruth has been running Yoga Creative Retreats for 3 years where she offers people to come to specially selected inspirational venues to make and learn her techniques and processes as well as learn about her philosophy of Creative Seasonal Living, working outside in nature as much as possible, using plant based essential oils to support a healthy life, yoga and working with materials from the earth – wood, stone, clay and metal.
Ruth believes that all of these elements help her to be a grounded and balanced person and allows creativity to take her wherever it needs to at whatever part of her life she is in. Life is an exciting journey so come along and join in with whatever tickles your fancy!!!
If you have any questions about art sales, workshops , yoga classes or retreats please email me : ruthwheeler.sculptit@gmail.com.
Please visit my social media sites for regular updates:
FB ruthwheeler.923                                                                                                                              Instagram ruth_wheeler