Ruth Wheeler runs Art and Yoga classes, Creative Workshops and Retreats in Surrey, Cornwall  other UK Venues.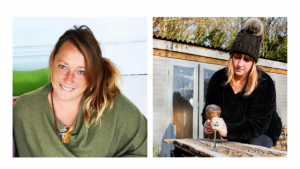 Ruth teaches Seasonal Yoga which is designed to align the changing energies of nature and the seasons in a practice that improves physical strength and flexibility, giving balance, harmony and an enhanced sense of well-being. Incorporating essential oils to promote both energy and relaxation.
Ruth has a BA Hons Degree in Fine Art and  Philosophy, is an experienced Artist and Sculptor, creating sculptures and teaching to a variety of community groups in Surrey for 25 years.
She also runs creative workshops and retreats.
You can find her large scale wood sculptures in many Surrey towns, such as  Farnham, Godalming, Guildford and works from her studio in Witley and the Birtley Estate in Bramley.
Art Galleries selling her work include the Blue Bramble Gallery in St Ives, Cornwall and Watts Gallery, Compton, Surrey.
If you have any questions about art sales, workshops , yoga classes or retreats please complete the contact form below: