Creative Carving Courses 
Venues:
The Woodland Art Space, Birtley Woods, Birtley House, Bramley, Surrey
The Sanctuary Garden Studio, Witley, Surrey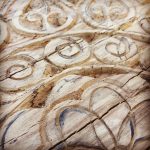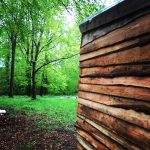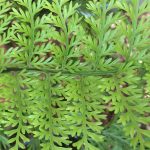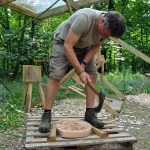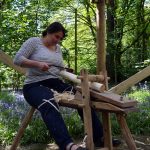 Carve and Burn  –  Ruth Wheeler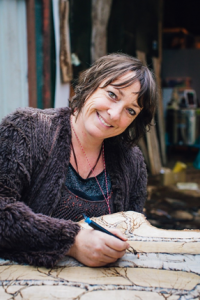 Next Pyrography Course – 30th November 2018  
Indoor Studio, Witley, Surrey 
Choose a piece of wood that resonates with you and Ruth will share with you her techniques with a  Pyrography machine to create your own art piece to take home.
£100 10am-4pm,  £75 10am-2pm   Group size  5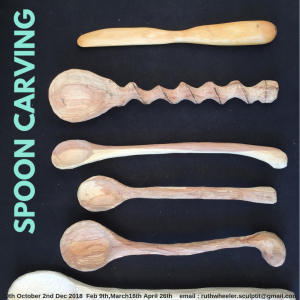 Spoon Carving       Wayne Smith
Wayne will show you how to make a spoon from cutting fresh wood from the tree, what tools you need and how to use them. You will make a spoon to take home. We will work in our new area nestled in the trees, keeping warm.
Next workshop Dec 2nd 2018 10am-3pm £75 per person        £50 Student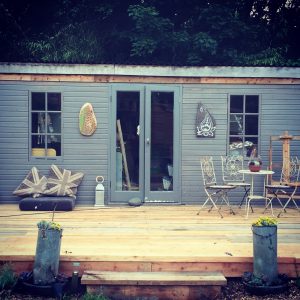 Experimental Xmas Craft Days
Fri 7th and 14th December 2018 10am-2pm        £60
Carve, Print and Sew – Laura Gould and Ruth Wheeler
The Woodland Art Sanctuary
Carve a simple wood block or lino  with Ruth and print on fabric, sew gifts such as eye pillows, tote bags, purses with Laura on hand!
Furniture- Ben Willis 
Windsor Stool Weekender
26th-28th April 2019
Weekend Course £295 includes all materials, tuition and fire cooked meals and drinks, free camping if you wish.
All Courses run from 10 am -3/4 pm  and include all materials and a simple lunch, tea/coffee will be provided just bring a cake or something to share. We will always have a lovely fire  pit going. 
Please book by email ruthwheeler.sculptit@gmail.com and
Payment through Paypal on this email address.
Carving Calendar
2018
Nov 30th – Carve and Burn – Ruth – The Sanctuary
2019
Dec 2nd  Spoon Carving (Mulled wine and mince pies, warm pot of stew and cakes) The Woodland Arts Space
Dec 7th Carve Wood Blocks and Print  – Ruth and Laura – The Sanctuary
Dec 14th Carve Wood Blocks and Print Ruth and Laura – The Sanctuary
Feb 9th   Spoon Carving – Wayne – Carve n Burn – Ruth Woodland Arts Space
March 16/ 17th   1 day spoons / 2 day bowls – Wayne, Woodland Arts Space
Carve and Burn – Ruth, Woodland Arts Space
April 26th-28th                Stool Making  Ben Willis   Woodland Arts Space
May 18th and 19th     Spoon/Bowl/Carve/Burn Woodland Arts Space